Free Tools
Octopus has developed a number of free tools to support your DevOps processes and CI/CD workflows. The links below provide tools that build Kubernetes resources, generate CI templates, and provide preconfigured virtual machines to test Octopus as part of a CI/CD workflow.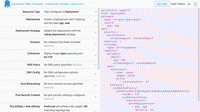 Test Drive Virtual Machines
Test Drive VMs provide a convenient environment to discover the power of Octopus. The VMs have Jenkins, Octopus, and other supporting platforms like Kubernetes, NGINX, Tomcat, and WildFly preconfigured with functional CI/CD workflows.