Welcome to Octopus Deploy
We want to be the best place you've ever worked, and we'll trust and empower you to do the best work you've ever done.
Do your best work, from wherever you work best.
We've built a place where passionate people are given the trust and freedom to do their best work. Most of our team is based in Brisbane, Australia, where the company started, though we've spread to other parts of Australia, the US, UK, and Argentina. Because our team is distributed, everyone works from home most of the week, so we've built a remote-first culture.
We hope that you'll do your best work while at Octopus, and we trust you to find ways to work that work best for you and invest in your journey. That means freedom to choose the best location from which to work each day: it might mean working from home, from an office, a cafe, or a co-working place, or some combination through the day - whatever makes you most productive and able to do your best work that day. We know that great knowledge workers need great tools, and we have various programs available including a program to choose your own laptop, and an allowance for setting up the ultimate home office set up. We have a helpful, personable approach to feedback (1:1's and 360 reviews from your peers), a professional development program that revolves around your career journey and preparing you for the future, and a standardized approach to salary & job title reviews.
Most importantly, we believe that what matters most in a job is the people you work with each day, knowing you're working on something that matters, where your work is appreciated, you have the opportunity to learn and grow, and where you have a manager that supports you. We work hard every day to ensure Octopus is a great place to work by those measures.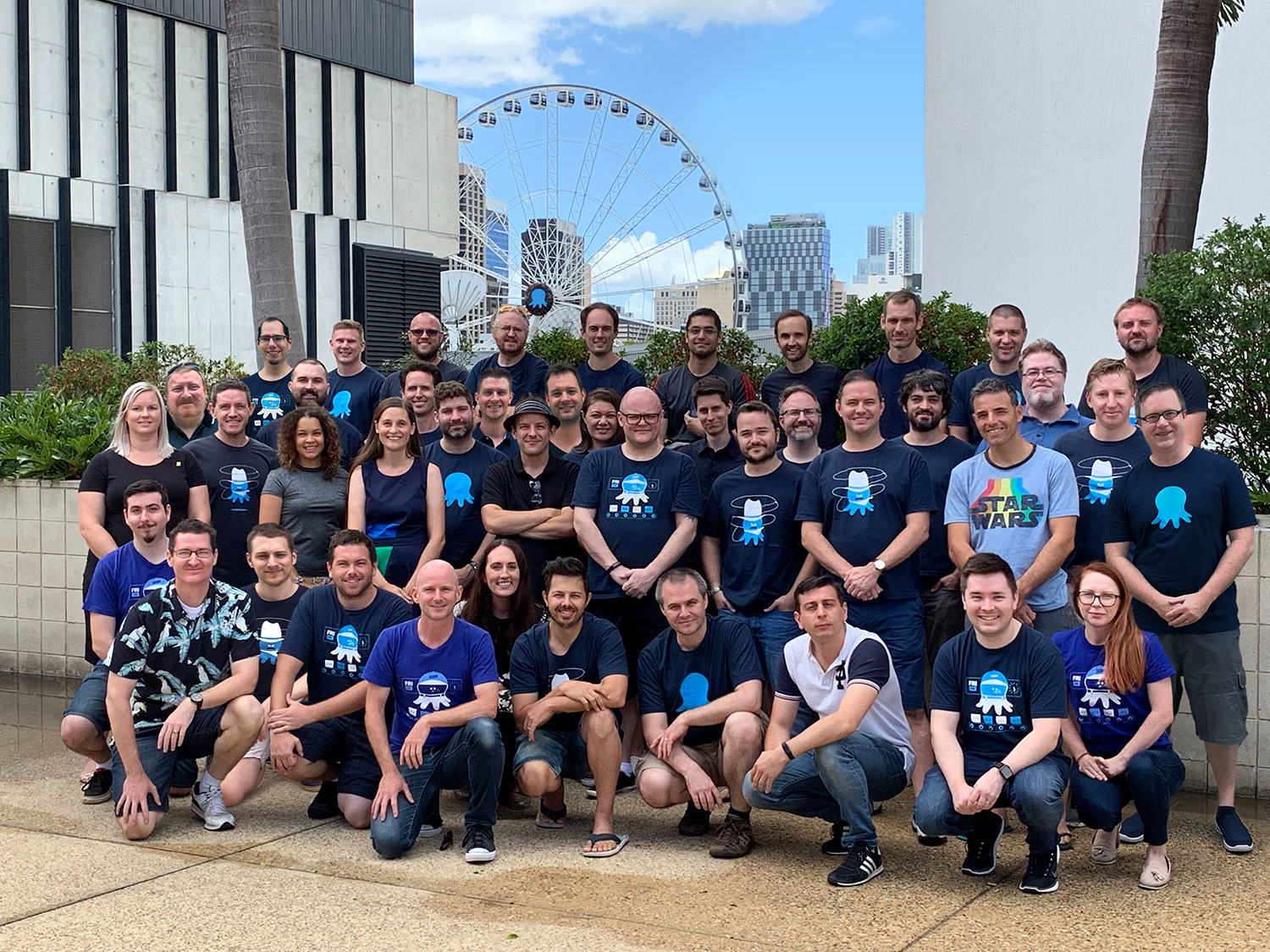 Although we're a remote-first company, we know that ultimately, we do better work when we're connected with people - especially those we don't interact with every day. We use Slack, Zoom and various other tools to stay connected, but we also meet up in person at least once each year in an event we call "Kick-off".
When you start, we'll bring you to Brisbane, Australia for two weeks to meet most of the team and to learn about the company, your role and all the other people you might not work with every day.
When customers succeed, only good things can happen
We don't sacrifice on product quality or the customer experience for growth. We see revenue as a happy side effect - not a goal - that only comes when we're making sure customers are succeeding when they use Octopus Deploy. We keep everyone closely aligned with the customer by making sure everyone in the company interacts with customers constantly - no intermediaries.
We take pride in our work
You'll work with bright people who care about their work, and care about the customer. You'll learn from us, and we'll learn from you. We think that the best decisions are made when the team that does the work reaches a consensus on what to do, and that team leads and management are just here to create an atmosphere where teams can reach consensus and to add context.
We're open by default
We're very open internally about what we're doing, why we're doing it, and the mistakes we make along the way. You'll know how the company is performing, and you'll have access to all the people and information you need to do your best work.
We play the long game
There's no quick exit plan. Although we're growing, it's not growth for the sake of growth - we want Octopus to be the best place you've ever worked no matter how big it gets. That means keeping our promises to our people and our customers.
Building a place you can belong
We've seen first hand that the our work happens when it's done by people who bring a range of backgrounds, experiences and skills. When we started, we hired people that we knew, who recommended other people we knew, and so they tended to be people who are similar to us. As a result, we're not as diverse as we'd like to be, but we're working to improve that. We'd like to get to a point where our team represents the entire range of backgrounds of the customers we serve - in educational backgrounds, gender balance, race, age, and experience.
We've built a culture of maturity, trust, respect and openness. We understand that work isn't the #1 priority in life, and we're very accommodating towards people's life circumstances and need for flexibility and understanding. We think that this makes Octopus an exceptionally welcoming and supportive place for people with families and special needs.
Benefits & perks
Work from wherever you work best
Competitive salary & a pro-active salary review system
Choose your own laptop program
Home office allowance
Great health care, dental and vision (US only)
Generous retirement plan matching (US & UK)
Opportunities to grow and contribute outside of your role
Professional development plans focused on you
Trust and autonomy to do your best work