Complex deployments made easy
Octopus Deploy is a single place for your team to manage releases, automate deployments, and automate the runbooks that keep your software operating.
Free 30 day trial. No credit card required.
Creating happy deployments at more than 25,000 companies, including: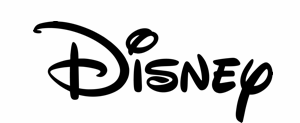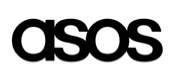 A unified DevOps Automation platform for your team
DevOps is about bringing teams together to collaborate. But when it comes to automation, the tooling is fragmented. Most CI/CD tools do a basic job of deployments and are designed for developers. Operations teams, meanwhile, need to use completely different tooling to automate the runbooks that keep the software running.
There's no reuse and no single source of truth. The tooling reinforces the silos and discourages sharing and collaboration, and forces a duplication of effort to connect to the infrastructure in multiple tools.
We approach it differently.
Octopus Deploy is the first platform to enable your developers, release managers, and operations folks to bring all automation into a single place.
By reusing configuration variables, environment definition, API keys, connection strings, permissions, service principals, and automation logic, teams work together from a single platform. Silos break down, collaboration begins, and your team can ship –⁠ and operate –⁠ software with greater confidence.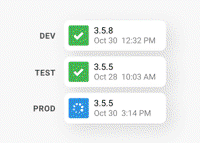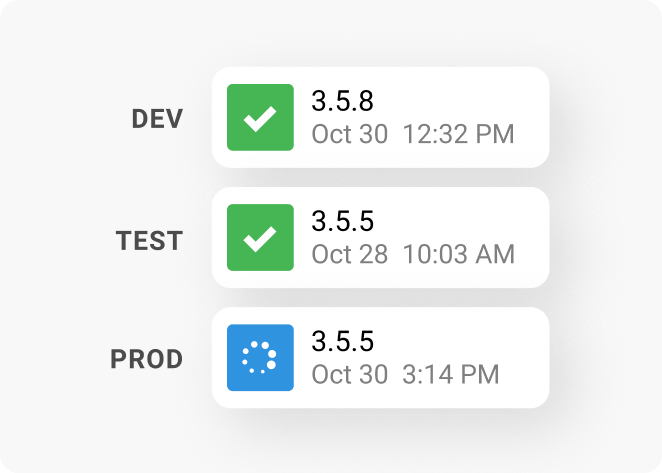 Release management
Octopus Deploy makes release management easy, auditable, and compliant. Simplified release management makes your life easy with consistent release promotion across environments, manual approvals, and release notes. The dashboard gives your team a heads-up display of what's deployed where.
Deployment automation
With over 400 included step templates, Octopus simplifies the most complicated deployments wherever you deploy your software. The deployment process in Octopus uses variables, meaning you use the same process in dev, test, and production environments, whether you're deploying to modern or legacy applications and infrastructure. Octopus supports advanced deployment patterns, including rolling, blue/green, canary, and multi-tenancy if you're deploying to multiple end customers.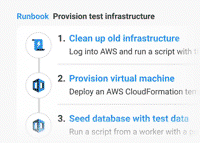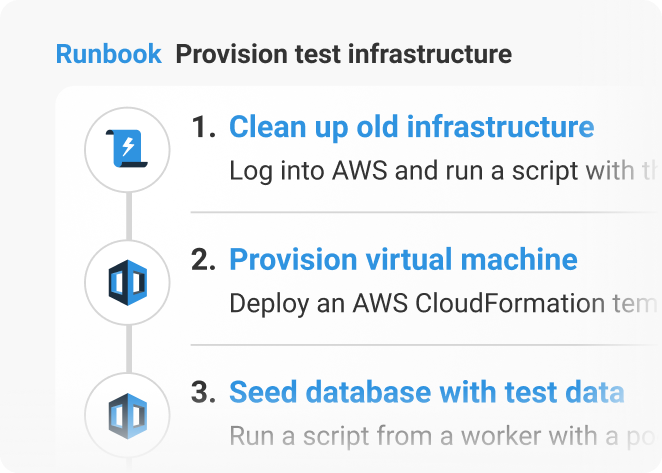 Operations runbooks
Runbook automation gives you control over your infrastructure and applications. Automate operations tasks like routine maintenance and emergency incident recovery. Octopus runbooks include all the necessary permissions for the infrastructure they run on, so anybody on the team can be granted permission to execute the runbook, and because they're managed in Octopus, there's a complete audit trail.
Build a tutorial for your stack
Octopus integrates with your existing source control system and build server, and takes care of all of the DevOps automation that happens after a build completes. Use the options below to build a customized tutorial for your CI/CD stack.
1. Select options
2. View your tutorial
Deploy an ASP.NET Core application to Kubernetes using Octopus and TeamCity →
Read the tutorial
Shout out to @OctopusDeploy for making their software so easy to work with. Just upgraded a 2 year out of date instance and migrated it to a new server and it worked with no effort beyond what their documentation said to do.

Alex Dent
@DevOpsDent
We've been overhauling our internal infrastructure and back-end systems over the past month, including a move back to full @OctopusDeploy deployments; rediscovering how nice it is to have a platform-agnostic orchestrator that can deploy practically anything, anywhere ❤

Nicholas Blumhardt
@nblumhardt
Tools like @OctopusDeploy can be great in enabling culture change, we've been able to scale and improve our configuration story since we started using it.

Niel Chalk
@_neilch
Ready to get started?
Start a free 30 day trial of Octopus Server or Octopus Cloud. Our getting started guides will walk you through everything required to deploy your first application. Or contact us to discuss your goals and how Octopus Deploy might help.
Start a trial
Contact us