What is runbook automation?
Traditional runbooks are documents or wiki pages describing IT processes that keep your applications running smoothly. They're generally executed by a system administrator and often cover routine maintenance or incident response.
Runbooks are useful when they are:
Accurate

- Incorrect or out-of-date runbooks can make things worse.

Discoverable

- Team members need quick access to the current version.

Tested

- Runbooks that haven't been run recently are next to worthless.
Runbook automation improves upon runbook documentation by automating and enriching the process.
Runbook automation helps teams automate operations tasks
Minimize application downtime
Websites go down and infrastructure fails. Fast incident response to restore services is critical. This commonly involves running scripts on remote machines, restarting web servers, or rebuilding infrastructure. In these emergency scenarios, the top priority is incident recovery, and the appropriate team can find a long-term solution later.
Runbook automation helps teams to automate recovery processes and execute them against their infrastructure. Restart web servers on Windows or Linux, recreate infrastructure, reset caches, clean up files, or anything you can automate in your favorite scripting language. Any team member with permission can execute the runbook for fast incident recovery without local tooling or individual logins, and a detailed audit log helps meet your compliance needs.
Simplify routine maintenance with automation
Teams perform routine maintenance to keep applications and services running smoothly, and these jobs are ideal for runbook automation.
Common routine maintenance tasks include:
Cloud infrastructure provisioning.
Database management:

Database creation.
Database backups.
Restore production backups for testing.
Ad-hoc SQL execution.

Certificate renewal and updating infrastructure to use them.
Operation system and tooling updates.
File and data cleanup.
With runbook automation, it's straightforward to automate these processes with hundreds of built-in step templates and broad support for infrastructure and cloud services. Octopus also includes flexible scheduling, so you can run tasks at the intervals that suit your team.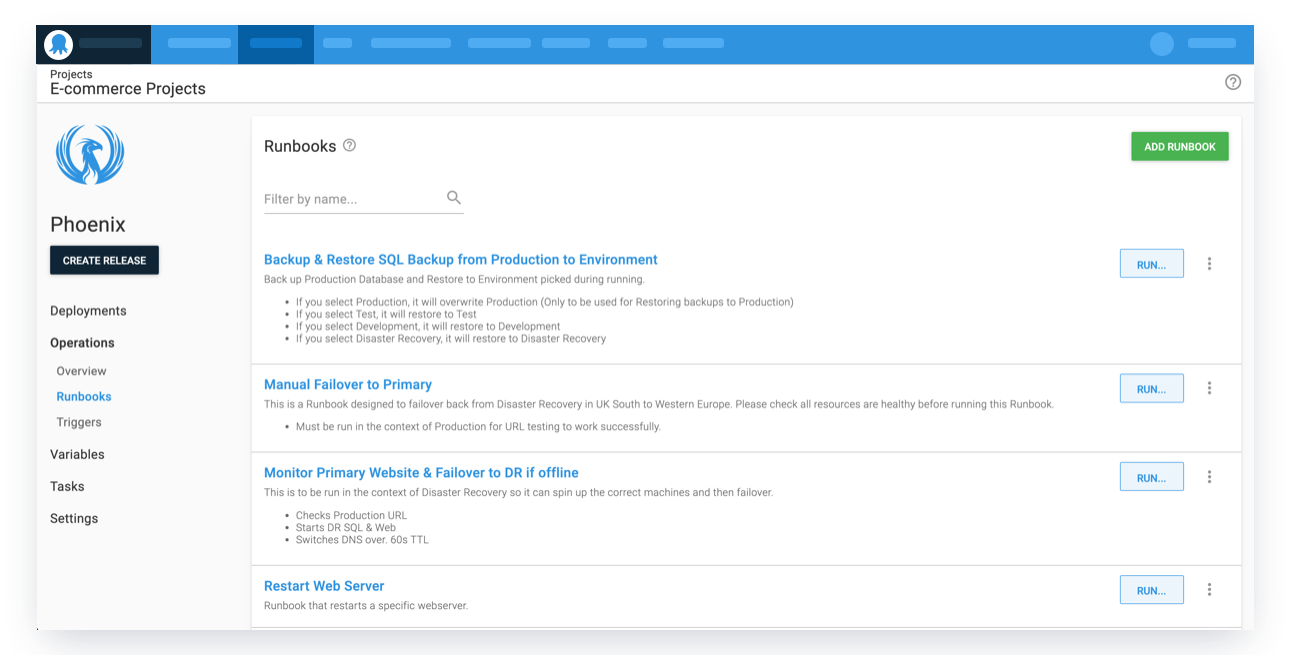 Self-service operations
System administrators and operations teams are often overwhelmed with emails, Slack messages, and help desk tickets asking them to fix problems or perform specific tasks. This is compounded by the increasing complexity of IT environments (Kubernetes, microservices, and more) as well as security and compliance requirements.
Runbook automation helps teams to reduce this burden by automating the most common tasks so teams can run them themselves. Self-service operations enable end-users, development teams, and support staff to independently execute tasks to save time, and it enables operations teams to work on strategic projects instead of busywork.
Shout out to @OctopusDeploy for making their software so easy to work with. Just upgraded a 2 year out of date instance and migrated it to a new server and it worked with no effort beyond what their documentation said to do.

Alex Dent
@DevOpsDent
We've been overhauling our internal infrastructure and back-end systems over the past month, including a move back to full @OctopusDeploy deployments; rediscovering how nice it is to have a platform-agnostic orchestrator that can deploy practically anything, anywhere ❤

Nicholas Blumhardt
@nblumhardt
Tools like @OctopusDeploy can be great in enabling culture change, we've been able to scale and improve our configuration story since we started using it https://buff.ly/2JyRmTY

Niel Chalk
@_neilch