Resources
Explore and learn about Octopus
Octopus Deploy makes it easy to automate your deployments and operations runbooks from a single place, helping you ship code faster, improve reliability, and break down dev & ops silos.
Azure Arc and Octopus Deploy
Azure Arc lets you manage and secure infrastructure and apps running anywhere as if they were resources in the Azure public cloud. In this webinar, Sarah Lean will be joined by Thomas Maurer, Senior Program Manager, Microsoft Azure Hybrid. They'll give you a rundown of Azure Arc and show you how to onboard resources created in Octopus Runbooks to Azure Arc. Join Sarah and Thomas to learn: - The capabilities of Azure Arc - Benefits of using Azure Arc - How to use Octopus Runbooks to install the Azure Arc agent

• 58 mins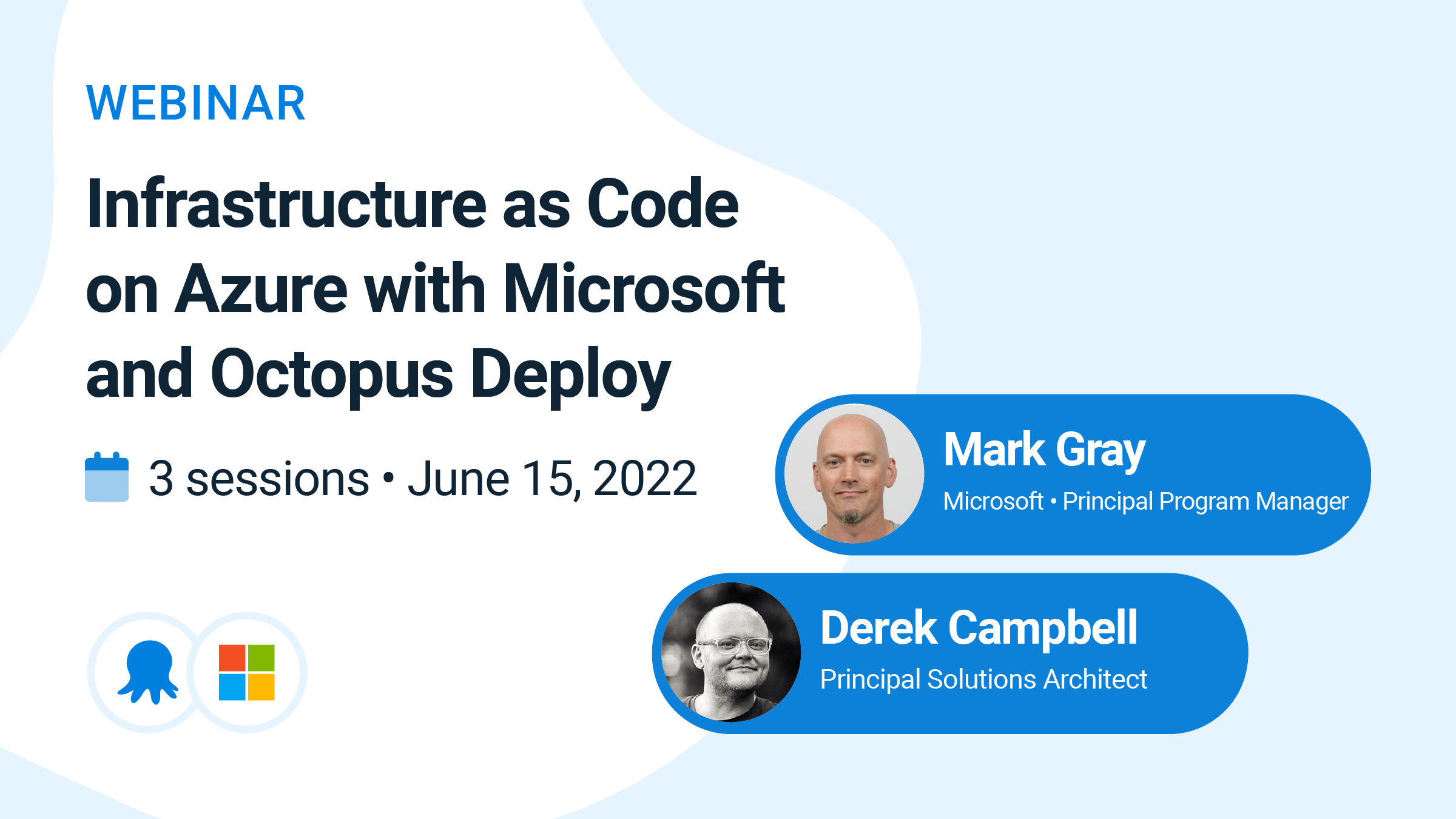 Infrastructure as Code on Azure with Microsoft and Octopus Deploy
Microsoft Azure is a leading cloud provider that releases new services daily. We host Octopus Cloud on the Azure Kubernetes Service (AKS). We use Terraform and other Infrastructure as Code (IaC) languages to deploy Octopus Cloud. In this webinar, Mark Gray, Principal Program Manager at Microsoft in the Azure Deployment team, will join Derek Campbell, and they will discuss and show you some of the many ways you can deploy your infrastructure to Azure using Infrastructure as Code. You will learn: - About Infrastructure as Code on Azure - The different ways to define IaC on Azure - How to deploy an Azure web app and resource group using different IaC languages and approaches
• 59 mins
Ask Octopus Live!
If you have a question about using Octopus, this is the webinar for you. Whether you're new and finding your bearings or a seasoned Octopus deployer, we want to hear from you. Send your questions to webinars@octopus.com with the subject line *Ask Octopus Live*. Ryan and James will answer some of the questions we receive, then open it up to the audience for a live Q&A.

• 52 mins
Didn't find what you were looking for?
Developer documentation
Documentation to guide you through working with Octopus Cloud or your self-hosted Octopus Server.
Documentation
Training videos
Free video tutorials to teach you the fundamentals of Octopus and guide you in your deployment journey.
Training videos
Join our community
Join our social communities to keep up with Octopus daily.